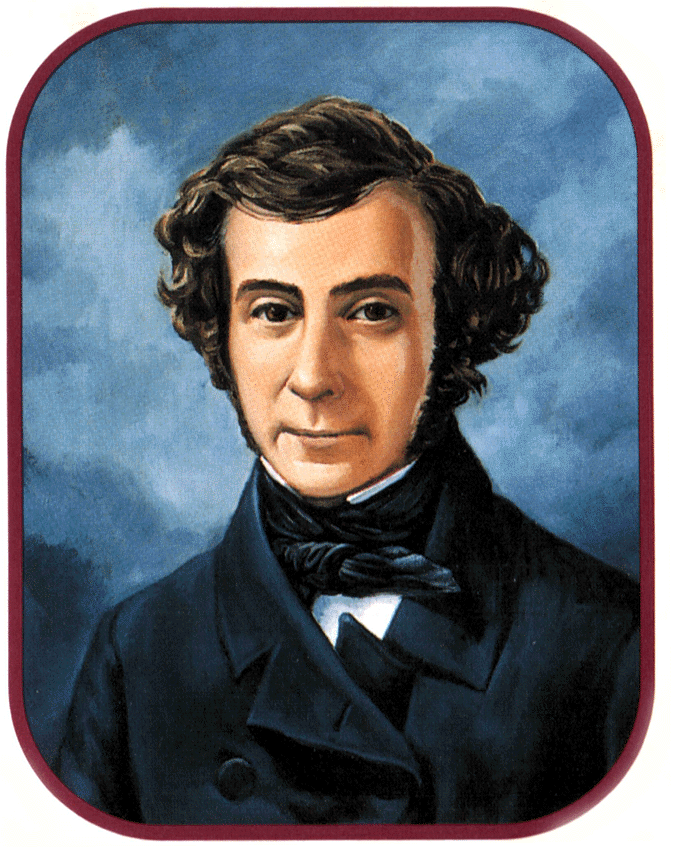 Individuals who give an annual gift of $10,000 or more to Sioux Empire United Way are recognized as Alexis de Tocqueville Society members.
Sioux Empire United Way's Alexis de Tocqueville Society was founded in 1997 by T. Denny Sanford.  The society is named after a French aristocrat and author, Alexis de Tocqueville, who wrote, "When an American asks for the cooperation of his fellow citizens, it is seldom refused; and I have often seen it afforded spontaneously and with great good will."  We are fortunate to have citizens such as these in the Sioux Empire.
Sioux Empire United Way is proud to have 122 members in the Alexis de Tocqueville Society. Our local members are also recognized on a national level with membership in the National Alexis de Tocqueville Leadership Society.
2022 SOCIETY MEMBERS
Ordre d'Indépendance ($250,000 - $499,999)
T. Denny Sanford
Ordre d'Egalité ($50,000 - $74,999)
Jim & Jane Harrenga
Dan & Arlene Kirby
Ordre de Liberté ($25,000 - $49,999)
Miles & Lisa Beacom
Greg & Sheri Carmon
Dana & LaDawn Dykhouse
Tom & Barb Everist
Mark & Pat Graham
Mark & LeAnn Griffin
Joe & Jennifer Kirby
Steve & Suzie Kirby
Matt & Joyce Krall
Ron & Joanne Moquist
Jeff & Katie Scherschligt
Scott & Ronna Sletten
Membres de la Société Grands ($15,000 - $24,999)
Anonymous
Brian & Janet Bird
Al & Terri Bowden
Bill & Linda Doyle
Steve & Kris Egger
Tom & Lisa Gerner
Bill & Carolyn Hinks
Dave & De Knudson
Rick & Donna Lessnau
Craig & Pat Lloyd
John & Carol McGrath
Randy & Debbie Nehring
Dave & Tammy Rozenboom
Dan & Sharon Rykhus
Darrell & Beth Schmith
Al Schoeneman
George Sercl, Jr. & Joannie Sercl
Dr. Gordon Spronk
Hugh & RuthAnn Venrick
Tom & Lynne Zimmer
Membres de la Société ($10,000 - $14,999)
Drs. Paul Amundson & Alison Tendler
Ben & Sara Arndt
Tom & Diana Berkland
Jeremy & Susan Bill
Scott & Raquel Blount
Rob & Miriam Broin
Jonn Byre
Bill & Lynne Byrne
Matt & Pam Clark
Dave & Ruth Colajezzi
Paul & Mary Ellen Connelly
Steve & Betty Crim
Kent & Carolyn Cutler
Rich* & Sharon Cutler
Tina Davis & Dave Hughes
Jake Farrant
Jay & Ginny Febus
David Flicek & June Nusz
Rich & Mary Garry
Bill & Jill Gassen
J. Tyler & Michelle Haahr
Dr. Eddie & Christine Hamilton
Paul & Paige Hanson
Clayton & Darci Haug
Dr. Daniel & Catherine Heinemann
Tom & Lori Heller
Glen & Amy Herrick
Stephanie Herseth Sandlin & Max Sandlin
Tim & Dr. Pam Homan
Jason & Debbie Hubers
Mike, Cindy & Kylie Huether
Rick & Glenys Hull
Jim & Megan Jarding
David W. & Jan Hovey Johnson
Ed & Karen Johnson
Rick & Mona Johnson
Steve & Becky Johnson
Ken & Rita Karels
Andy & Brenda Kibbe
Kira Kimball & Lance Moran
Kevin & Peggy Kirby
Randy & Tamara Knecht
Chris & Stacie Kray
Craig & Liz Krogstad
Crystal Lail
Jim & Barb Lake
Jeff & Julie Lautt
Scott & Marlys Lawrence
John & Jeanelle Lust
Mike May
Pierce McDowell III & Barbara McDowell
Mark & Cynthia Mickelson
Steve & Nancy Neff
Dr. Michael & Debby Olson
Matt & Karine Paulson
Steve & Marianne Perkins
Mark Powell & Rhonda Lockwood
Tate Profilet & Mary DeJong
Tom Pruner
Nathan & Susan Quello
Tony & Mary Ratchford
TJ & Dr. Gayle Reardon
Tom & Kris Reaves
Jack & Joyce Rentschler
Greg & Pam Sands
Steve & Dr. Sarah Sarbacker
Arlette Scherschligt
Kevin & Laney Schieffer
Keith & Becky Severson
Mark* & Peggy Shlanta
Dave & Sue Simons
Denny & Judy Sisson
Roger & Diane Starks
Tim & Nancee Sturdevant
Cynthia & Dr. Tom Stys
Bob & Lori Sutton
Joel & Tanielle Sylvester
Bob & Joan Thimjon
Dr. Vance & Jana Thompson
Chris & Kristen Thorkelson
Greg & Kris Ticknor
Bill & Teresa Townsend
Jon & Suzanne Veenis
Steve & Darcy Vlk
Tom Walsh, Sr. & Kathy Walsh
Memorial Funds
William & Lida Beach Memorial Fund
Charlie Smith Endowment