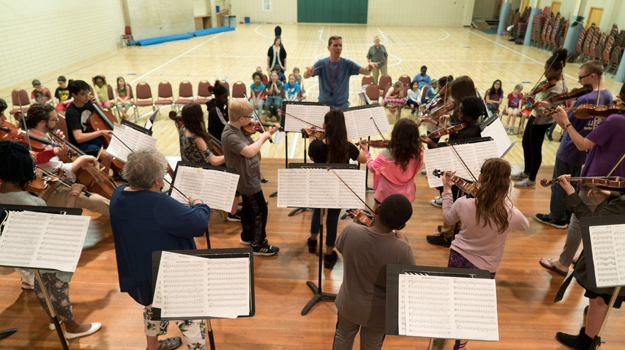 The hours after school can be an integral part of a child's day. Completing school work, participating in extracurricular activities, socializing with friends, learning a new skill, and more, are all possibilities during those few hours from the end of the school until the time their parents are done with work.
One Sioux Empire United Way funded agency wrapped all of these afternoon possibilities into one program, creating a community of music through a free after school program. Harmony South Dakota provides children the opportunity to participate in a daily program that offers string orchestra, percussion ensembles, musicianship classes, private lessons, and time to complete homework and play with friends. One parent noted:
Harmony is the highlight of each of our children's day. They keep saying they wish Harmony was on Saturdays and Sundays, too! They all three love it.
We moved to Sioux Falls from another state in 2017. Along with moving comes many expenses and not knowing how far your income will go in a new job. When my son came to me that year and said he wanted to learn to play violin, I looked up private violin lessons and realized there was no way we could afford them or any other kind of extracurricular activity that year. I was very sad that I could not provide even one extracurricular activity for him to enjoy (especially music, since I know music improves a child's life in many ways).
A couple of months later, someone put a post on Facebook saying that there was a music program called "Harmony" that was starting a new class in September and that they still had openings. The class was a completely free orchestra program and just so happened to fit in the age range of my son! Not only that, but it was also fairly close to our house. I signed our son up for the waiting list and he was able to get into Harmony in September of that year!
Harmony was truly an answer to my prayer for God to provide a way for my son to learn the violin. Since that first year, our two other children have also joined. Harmony has given our children joy, strong friendships, confidence, and a safe place to belong, as well as excellent musician skills. It is truly an exceptional program of which I am so thankful our children have been able to be a part.
Your support of Sioux Empire United Way provides the Harmony opportunity to more than 76 participants each year.