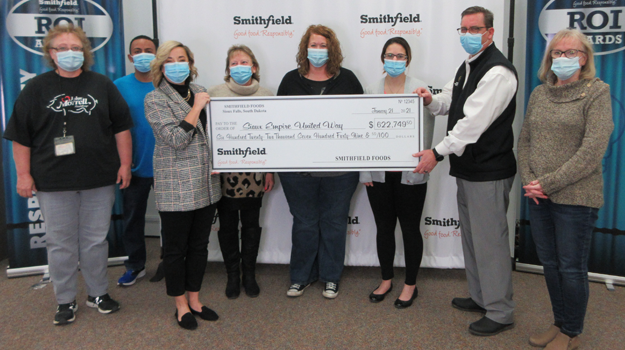 When Smithfield Foods requested SEUW leadership's attendance at a check presentation, special accommodations were made – not only for social distancing and safety, but also for the size of the check. Smithfield employees proudly announced another record-breaking campaign, achieving a 5% increase in giving, topping $620,000!
"Smithfield Foods is dedicated to supporting the communities where our employees live, work and raise their families," said Tolcha Mesele, senior community development manager for Smithfield Foods. "We are incredibly proud of our Smithfield Family, who has once again come together to not only keep food on America's tables throughout the pandemic but also contribute personal funds to those in need locally."
In a year marked by the pandemic, Smithfield adjusted their regular activities to maintain safety, but committed to carrying out their key campaign strategy- ensuring each of the 3,300 employees are asked to give. Their strategy works, maintaining 80% participation in the campaign, with 822 Heart Club givers and 353 Half-Heart supporters.